We are the only Japanese restaurant in Umegashima, also have Natural Hot Spa.
Shizuoka City has a long north to south axis with Suruga bay in the south and steep mountains in the north, where you will find the hidden treasure of Umegashima Hot Spring Spas.
It takes 2 hours by bus or 50 minutes by car from Shin Shizuoka Interchange of Shin-Tomei Expressway.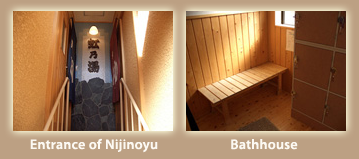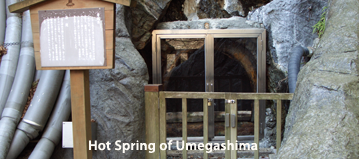 The Niji-no-Yu is one of the spas you can enjoy a day trip. The water for all the spas is provided by the only Japanese restaurant in Umegashima.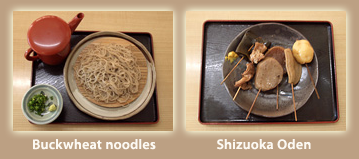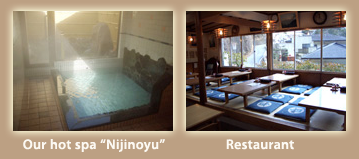 The restaurant offers tasty homemade buckwheat noodles, Shizuoka Oden at ¥100 apiece, fragrant freshwater fish called yamame and ayu, and konyaku dishes.
Why not take home such specialties as pickles spiced with horse radish, tea leaves from the hot water supplier's plantation?
Experience the friendliness of the country people.
The sulphur in the water of the Umegashima Hot Spring makes the skin silky smooth. Enjoy the open-air spa as well as smaller bathing rooms.
You may see other hot springs on the way to Umegashima Hot spring, but don't stop there. Our hot spring is well worth the effort of driving a little further.
The road continues through the Abe Pass to Yamanashi Prefecture, but the road is closed in winter.
All around the Umegashima Hot Spring you can enjoy hiking (to the Great Abe Water Fall in particular).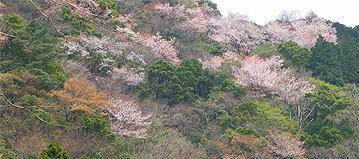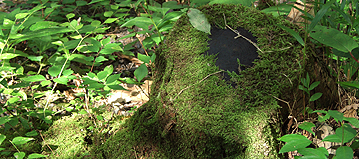 Wild mountain cherry blossoms in spring, the lush greens of summer, gorgeous autumn foliage are a blessing. Shizuoka City is known for its lack of snow, but Umegashima may sometimes surprise you.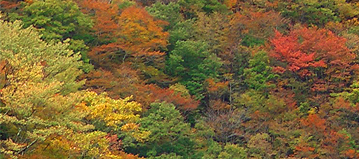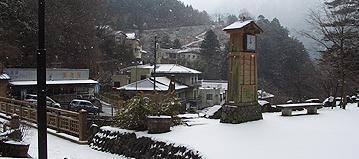 You may also encounter wild animals such as Japanese monkeys and wild boars in this truly natural environment.
We are open from 9am to 4pm daily, but closed some day due to various reasons, e.g. very bad weather or something. The open air spa may be closed in inclement weather.